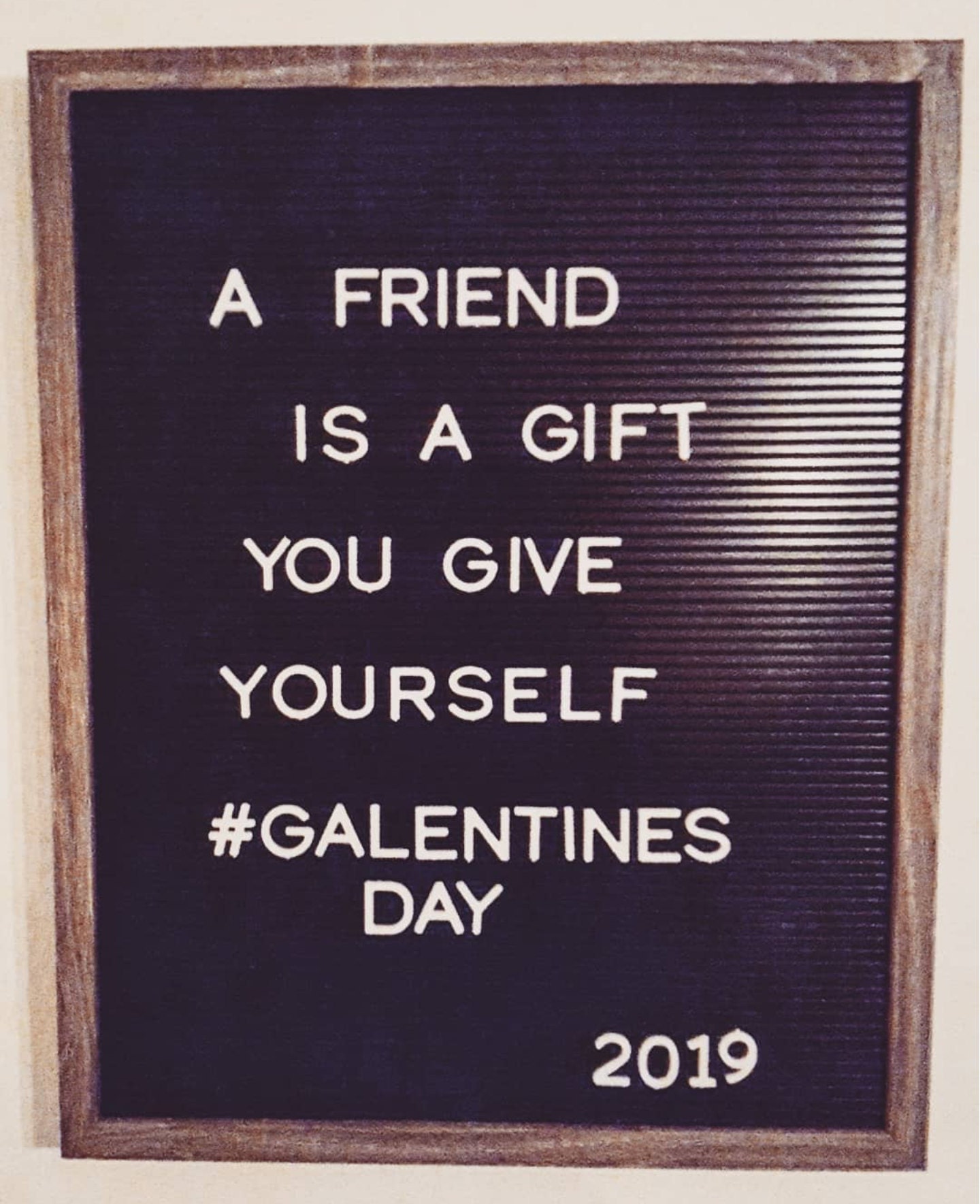 For the past 16 years, my Valentine's Day has been spent with my family, most importantly with my son. In 2019 I am all about getting in as much girl time as I can. This year I decided to dedicate this holiday to my girls. 
   If you're a fan of Amy Poehler, you are probably also a fan of Parks and Recreation. On the show, Leslie Knope who is Amy's character created & celebrates Galentine's day. What is Galentine's Day you may ask? Well in the words of Leslie Knope, "Oh, it's only the best day of the year.". Celebrated on February 13th, it's a nonofficial holiday centered around "ladies celebrating ladies.". Listen if you haven't watched Parks & Rec head over to Netflix and start binge-watching. If you don't care to watch, check out the Galentine's Day episodes they​ are undoubtedly a must watch.    
   This year we didn't make any plans for Valentine's day as my Hubs works overtime during the week and my son arrives home late from school. This gave me the perfect excuse to plan yet another ladies night. What a great way to celebrate female friendships by hosting my very first Galentine's day & my girls were all in for it. 
   On the show, Galentine's day is celebrated with a group of Leslie's friends from all aspects of her life during a brunch where she gives all her gal pals the most crafty, thoughtful and very elaborate gifts. Of course, My crafty little soul loves every aspect of her Galentine's day celebration. However, Feb 13th landed on a Wednesday so because we all have crazy lives and routines we settled for another evening at my place. 
  Once again as a last minute decision I choose to keep things as simple as possible. There was no time to get fancy and pull out all the stops. The goal was to put our busy lives on hold for an evening and come to celebrate our friendship. We'd sit back, relax & enjoy the night as we caught up & reveled in our friendship.
Here is how I put together my first Galentine's day:
1. I would have loved getting creative by making fancy invitations to send the ladies but with the limited time that was not an option. Instead, I choose to text the girls on Sunday night to invite them over on Feb 13th. 
2. Of course, I checked Pinterest for ideas. I mean it is always a must, right? I was inspired by all the great Galentine's day pins which of course inspired me with decorating options. I used some yearly Valentine's Decor and handmade a few items using supplies I already had on hand. Lastly, ​I changed the quotes on my letter board and chalkboard.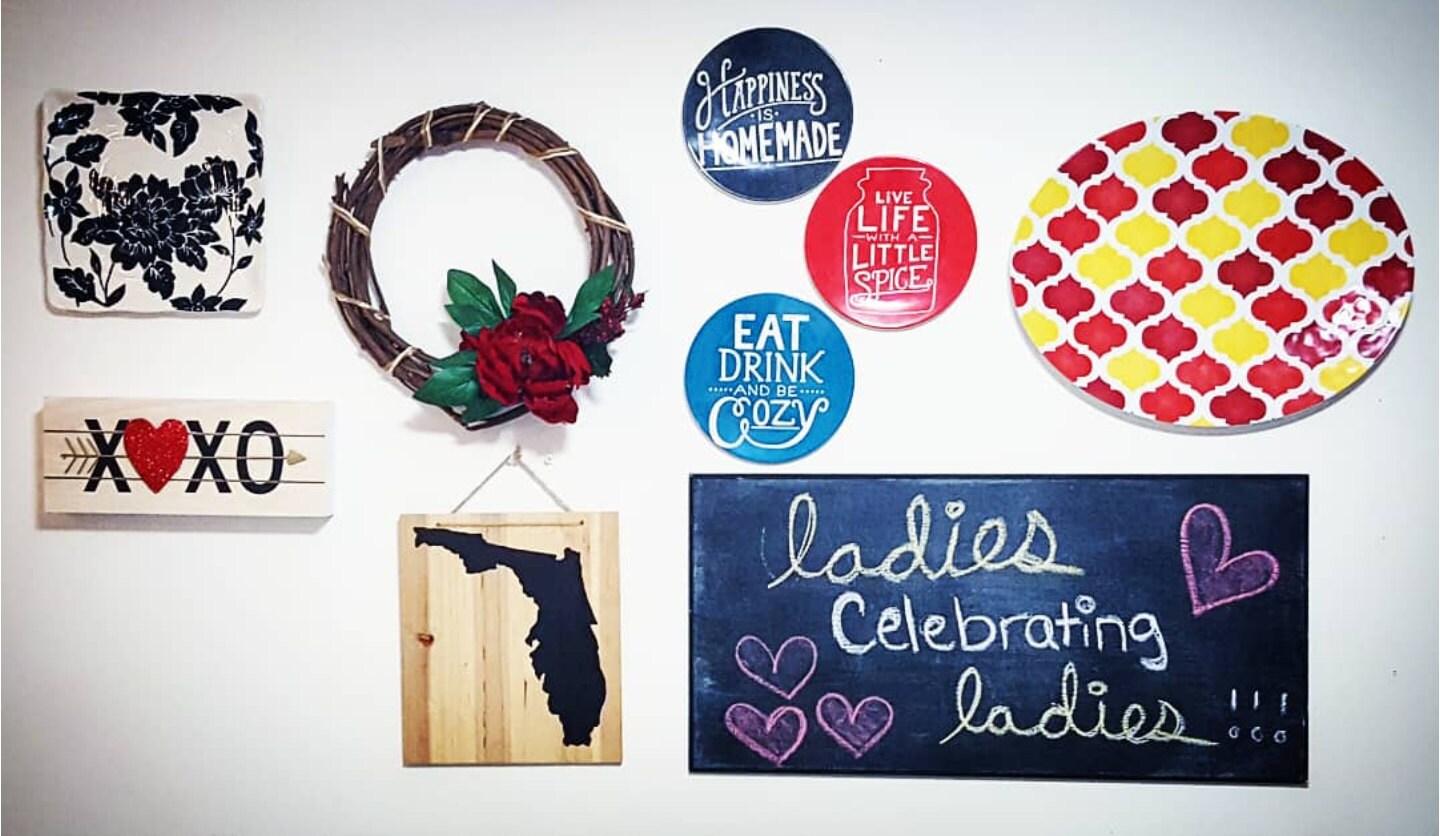 3. I planned on cooking dinner for the ladies. The dinner menu was to include a salad, entree, and dessert. Unfortunately, life happens and this left me with no time to cook. Instead of dwelling on it, I rushed to Walmart grabbed some mini cupcakes, Valentine's Day candy, and a few other things. When the ladies arrived we all decided on Taco Bell​. We then jumped in the car, picked up some food, and headed back to enjoy our dinner.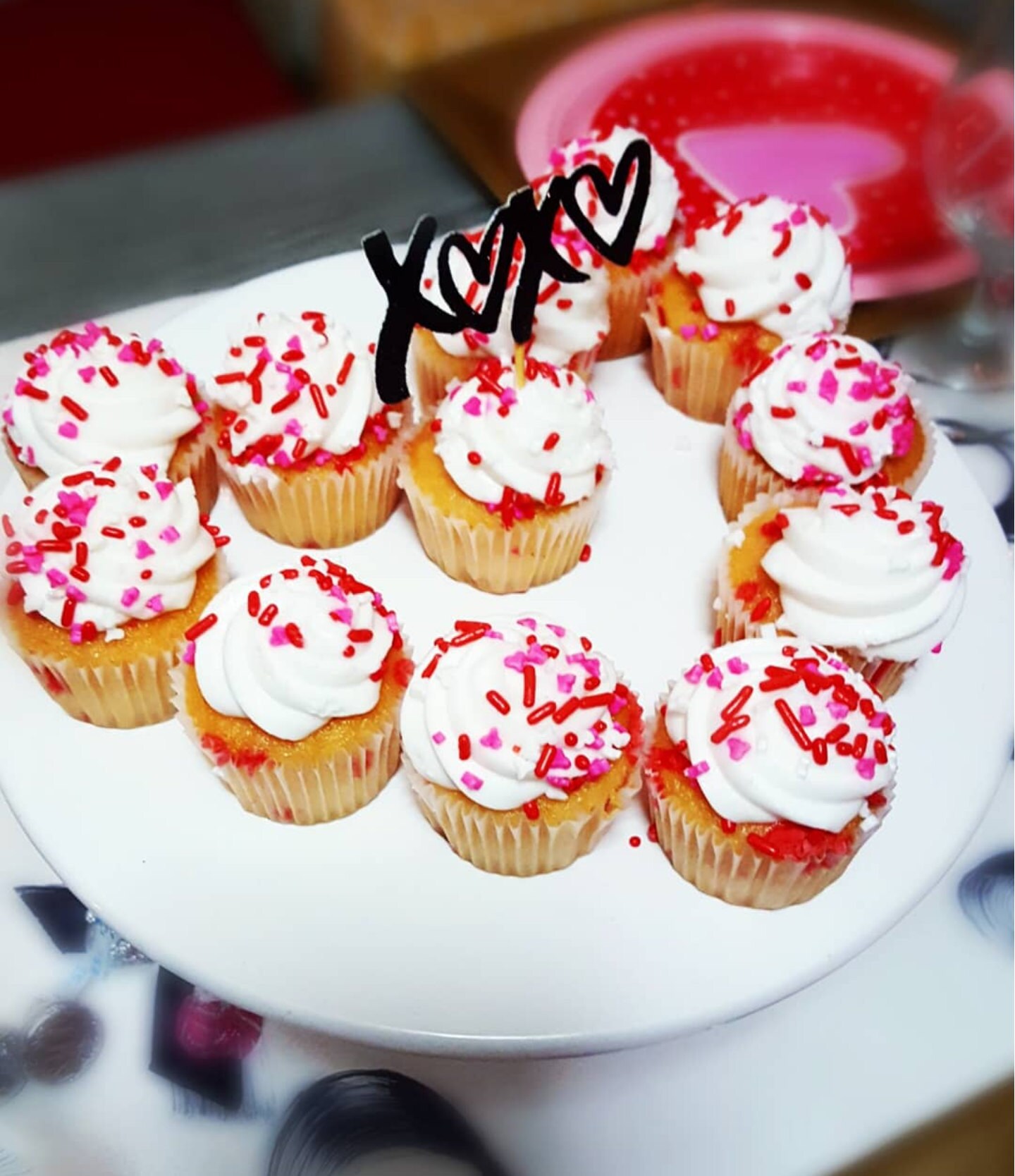 4. The Party favors included one red nail polish, one pink nail polish and a cute hair tie. I turned an adorable invite from: 
https://www.thehellolovely.com/make-galentines-day-invitations.html 
into gift tags and tied it around one of the polishes with a piece of twine.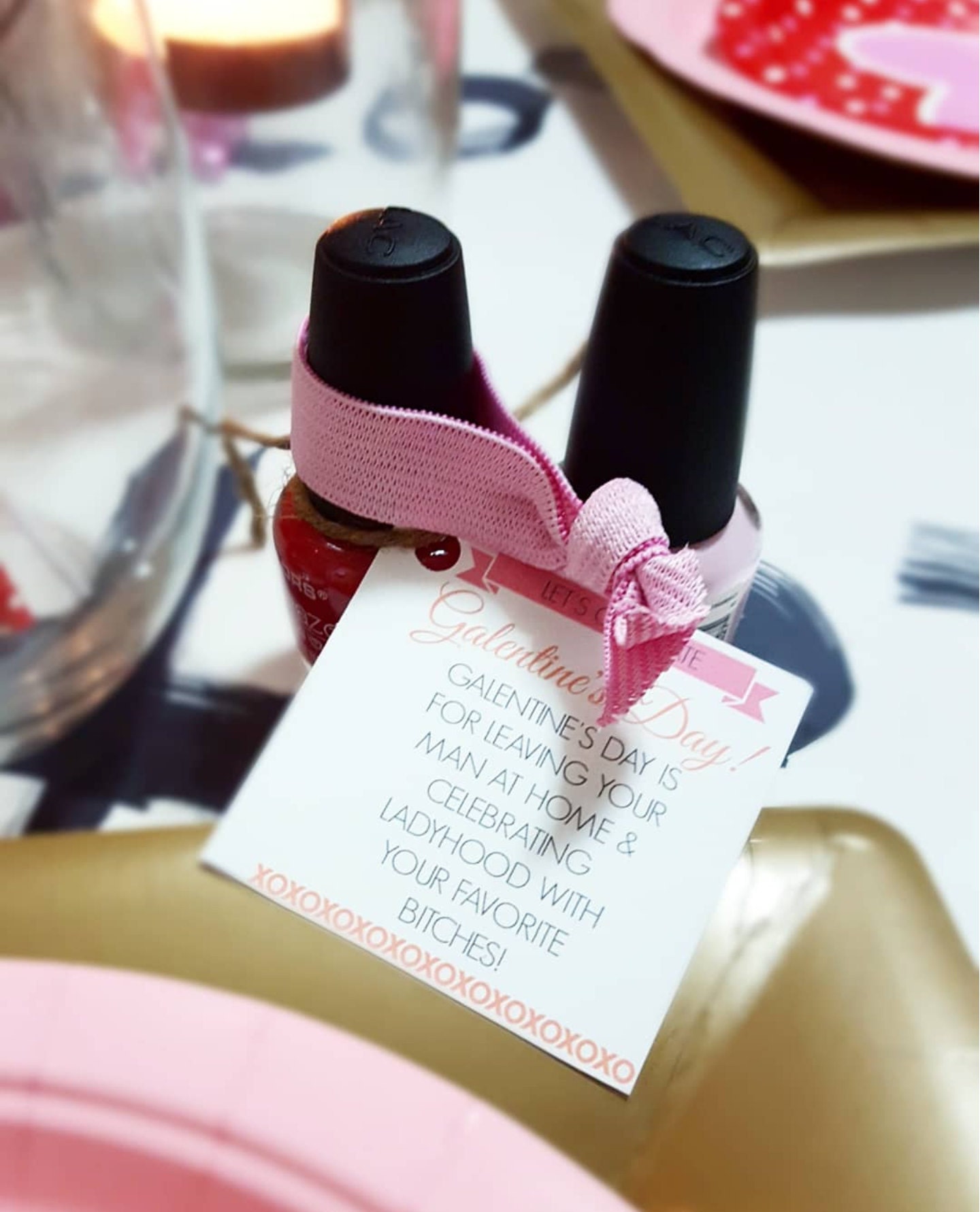 5. The rest of our night was spent enjoying each others company. I found some great sources online for printable Galentine's Day decorations. Although, I didn't need decorations the
over on:
https://pizzazzerie.com/holidays/free-galentines-day-party-printables/ 
were absolutley adorable and included a set 0f Twenty questions cards which I immediately printed. Our conversations are far from ever being dull. However, these fun, light-hearted questions helped us keep the conversations going & getting to know each other ​a bit deeper.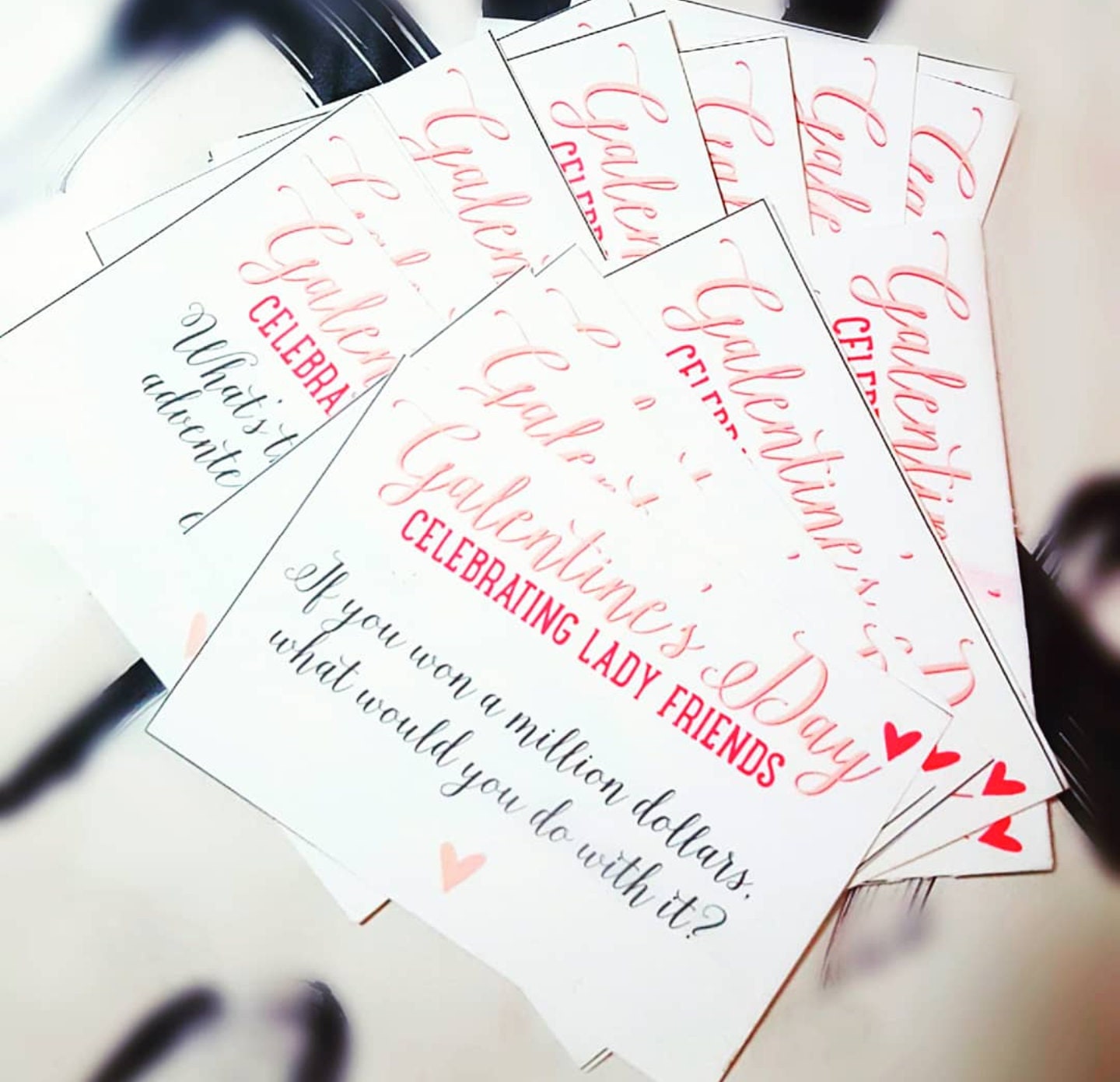 Quick tips for hosting your own Galentine's Day Soiree:
1. Going out for Brunch, Lunch or Dinner with your gals might be the easiest stress-free way to celebrate Galentine's day. Skip the hassle of party planning by simply picking the perfect restaurant. To add some personal touches send each lady a fancy invite. Also, ask each lady to bring a small valentine themed gift and then have fun with a white elephant gift exchange.  
2. If you're on a budget or staying in is more your thing then relax and host your Galentine's Party at home. Make sure you get to enjoy your event by keeping things as simple as possible. Stick to an easy menu. If cooking isn't ​your thing enjoy some easy appetizers or pick up some quick fast food. 
3. Don't stress over the decor. Create a festive table setting using items you already have at home.  There are many free printables available online. Take advantage of this free resource by using Pinterest. Handmade decorations don't have to be complicated.  You can make an adorable Valentine Garland by cutting out a few red or pink hearts then gluing them to some ribbon or any string you have available. I saw an adorable white and black XoXo table runner on Pinterest. Without reading the article, I quickly grabbed some supplies and recreated my own version of the XoXo table runner. I used an old roll of white gift wrap, a sponge brush and a bottle of ink refill to create my XoXo runner and it turned out great.
5. Remember, this is a day to bask in the awesomeness of the woman around you. Regardless of how you choose to celebrate Galentine's Day uplifting ​each other is the ultimate goal.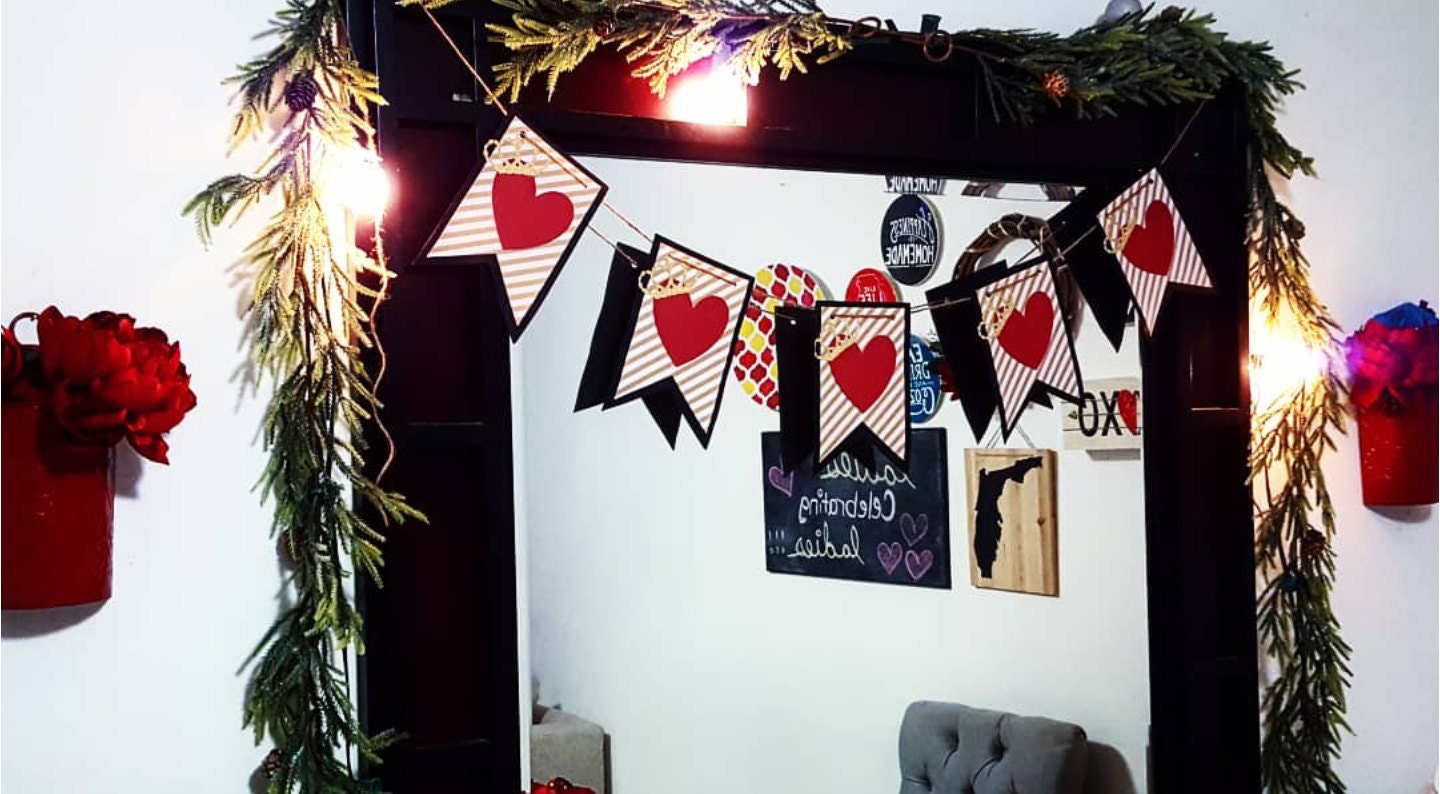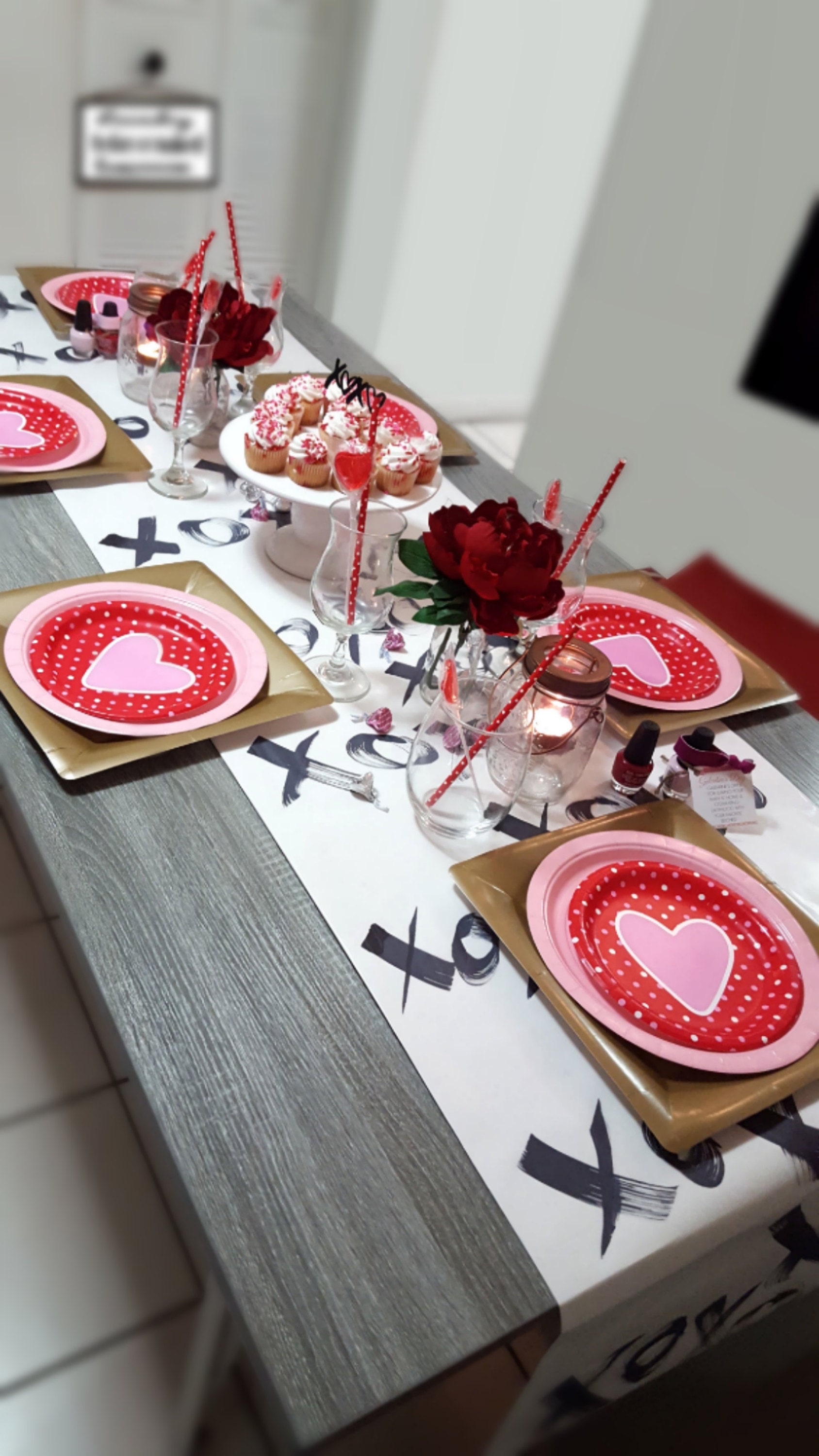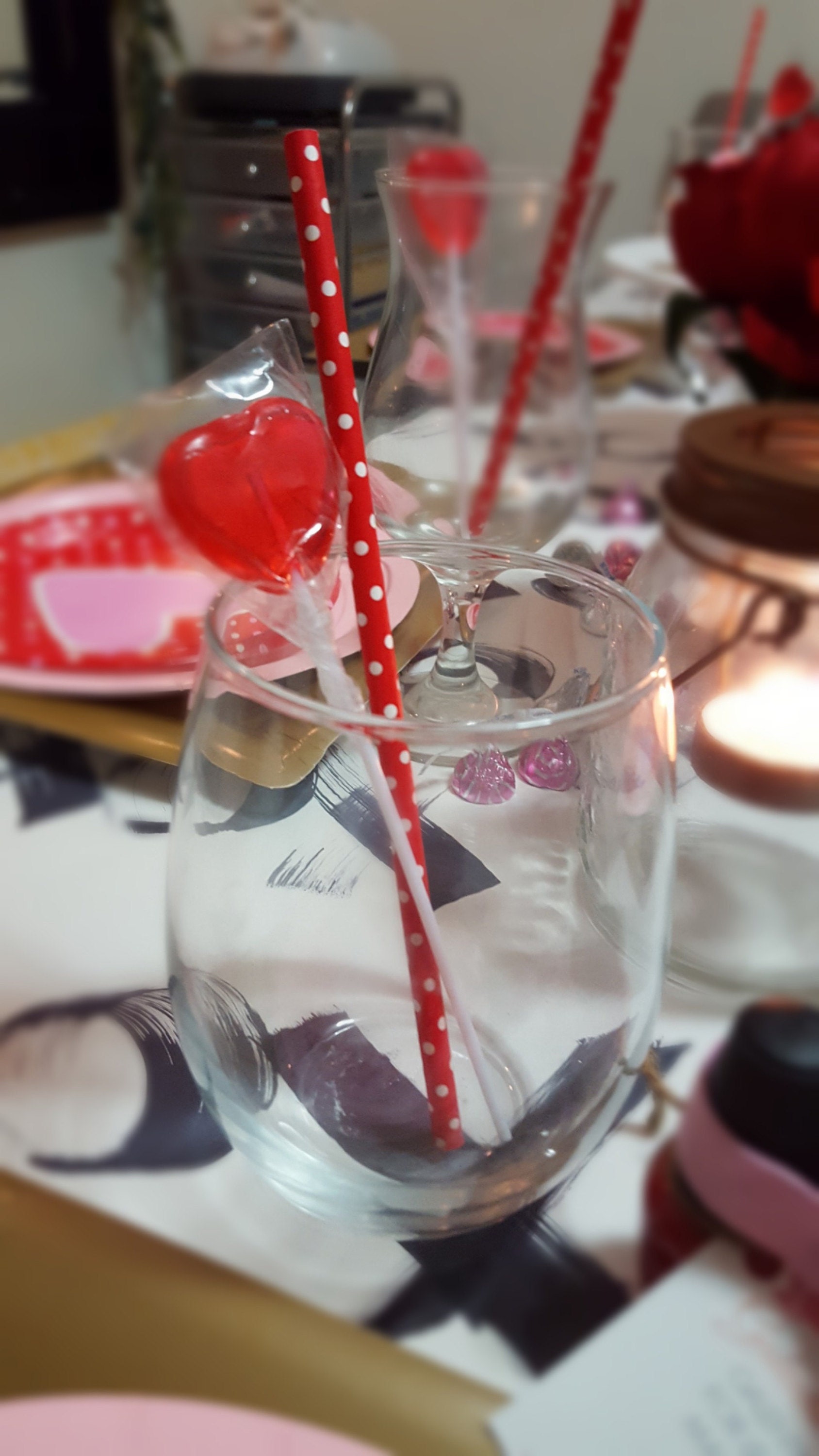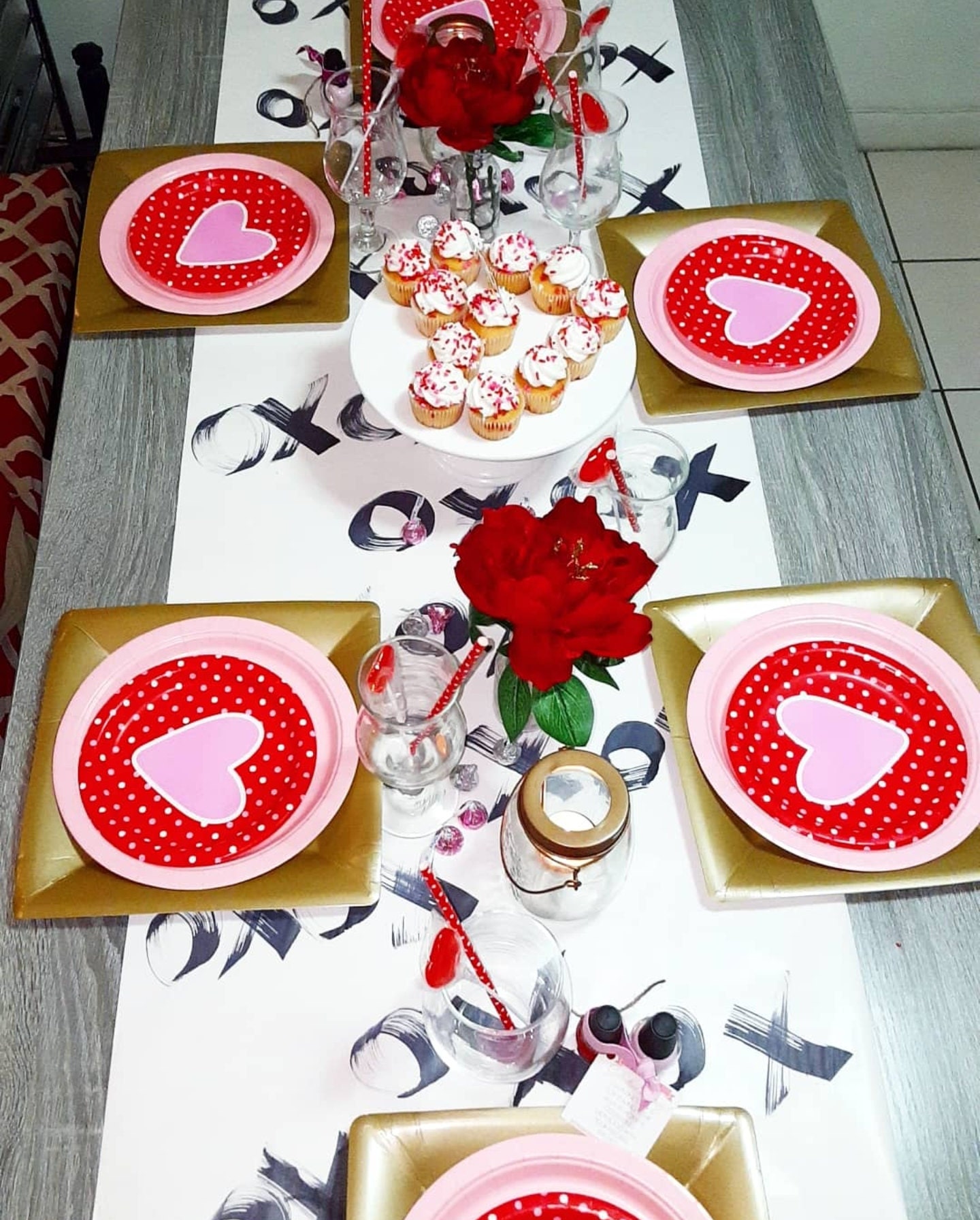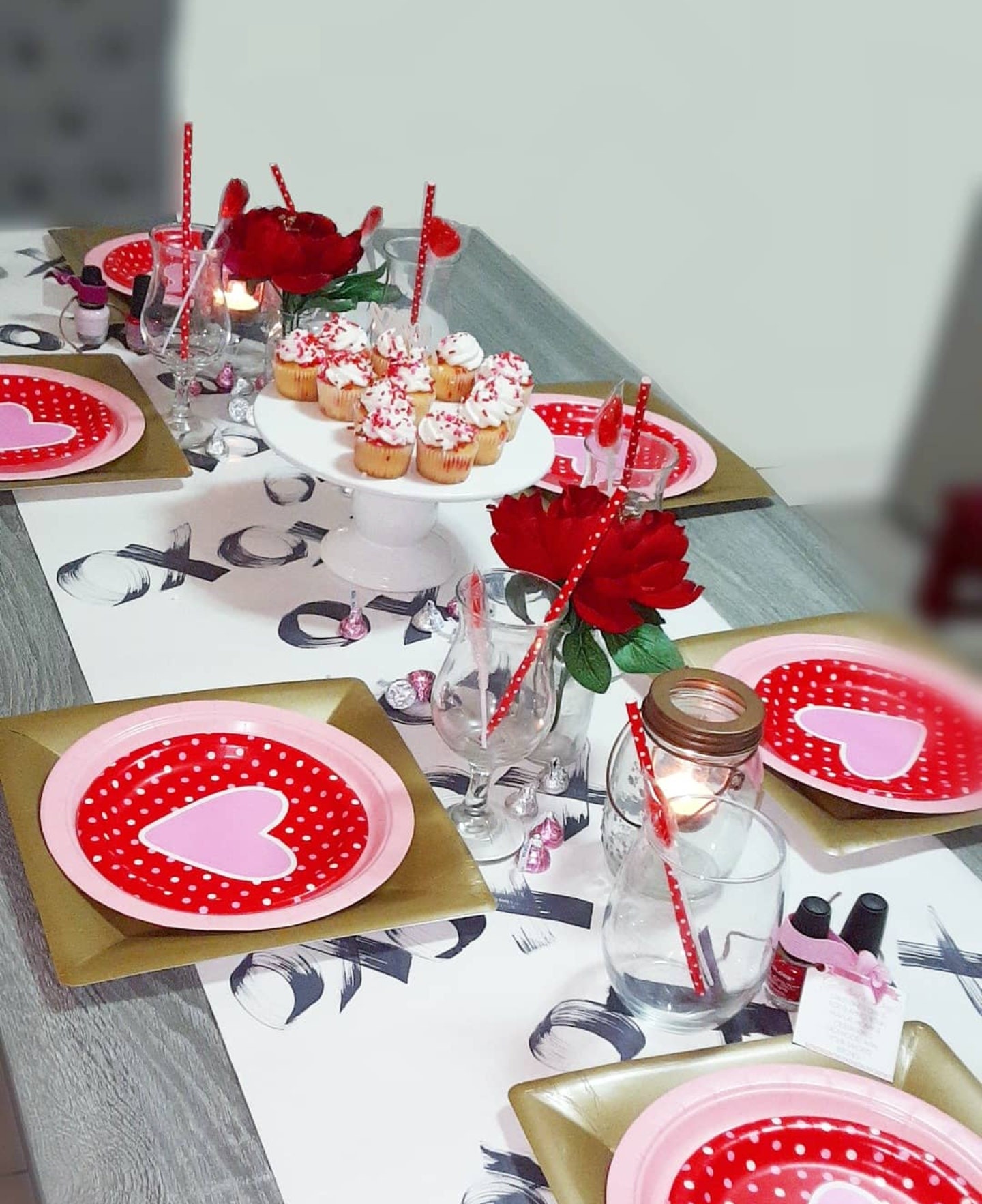 Check out our XoXo cupcake topper featured in this post.
Not just perfect for Valentine's day but also great for Weddings, engagement parties, bridal showers and birthday parties.
Available in your choice of glitter Pink, glitter Red or glitter Black. Message us if you need any other color and we'll let you know if it is available.
These come in Cupcake topper sets of 6 and 12 or in a Larger Cake topper size.
https://www.etsy.com/listing/581110996/xoxo-cakecupcake-topper?ref=shop_home_active_18